Freckles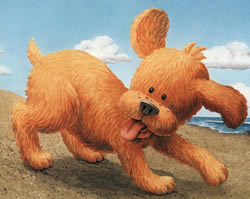 Freckles is a delightful puppy that stars in his own series of picture books featuring his many life adventures. Envisioned and created by author Ellen Bryant Lloyd, each book captivates children with excitement, challenges, and great opportunities for learning. The stories are written with a simple text that flows easily and is wonderful for reading aloud. The FRECKLES picture books are targeted for children ages 2-8, but are enjoyed by children of all ages.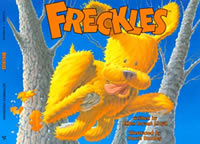 The debut adventure, FRECKLES, is the story of Freckles and his adventures with the big wild dogs that live in the forest. The dogs teach him their ways, but Freckles leaves them when he realizes how they treat the other animals. The story teaches children the important lessons of listening to your heart, standing up for what you believe in, and being yourself.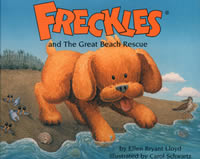 FRECKLES AND THE GREAT BEACH RESCUE is the second book in the FRECKLES adventure series. Freckles visits the beach where he befriends a sand crab named Pinch. Together they find the strength to rescue baby sea turtles that are trapped in a fishing net, moments before an impending storm. This story teaches children the important lessons of believing in yourself, recognizing individual strengths and talents, and courage to face challenges.
A variety of Freckles products are now available for children, including a soft plush toy manufactured exclusively by GUND, one of the world's best known manufacturers of plush toys. Freckles t-shirts are also available, and young readers may enjoy fun and games, become a Freckles' Friend, or share ideas for Freckles next adventure at this website.